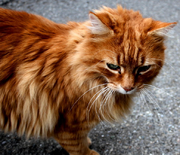 Redcloud is a dark ginger she-cat.
Medicine cat: Redcloud
Cause of death
Edit
old age
Residence
Edit
StarClan
Brighteye's DestinyEdit
She is first seen at the Moonpool with other medicine cats. A StarClan cat, Marigoldleaf, visits her in a dream and tells her a prophecy. Redcloud doesen't understand, but Marigoldleaf fades before she had a chance to say anything.
When Brightkit visits her den, she greets her and asks if she wanted to help her with sorting herbs. Brightkit later decides to tell her she wanted to be a medicine cat, and Redcloud looks relieved, probably because she was worried she'll die before she gets an apprentice. She helps Stempaw when he has a deep wound on his belly, and later gets out to collect marigold.
Coming soon
Marigoldleaf, who gives her the prophecy, might've been her mentor